Health & occupational safety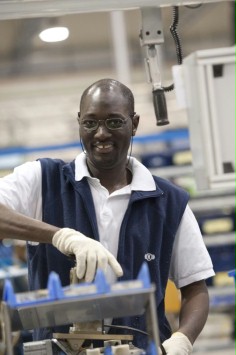 Occupational safety and employee health are very important for
Knorr-Bremse and firmly anchored in our business processes. The Health, Safety and Environment (HSE) department at every site is responsible for all health protection and occupational safety measures.
Our health & safety and environmental protection policy provides the basis for systematic occupational safety management at Knorr-Bremse. Uniform processes and regular internal audits ensure a minimum worldwide standard in all areas. Essential aspects of our safety management system are: comprehensive risk assessments of sites, workplaces and work processes, promotion of safety awareness through employee training sessions and information campaigns, an exact analysis of accidents and the drawing up of appropriate accident prevention measures.
Knorr-Bremse attaches great importance to the external certification of its management systems according to internationally valid standards. 37 global production and service sites in our Rail Vehicle Systems division are already certified according to OHSAS 18001.
Knorr-Bremse promotes employee awareness of health issues through many different campaigns. Throughout the world, health days, workplace medical examinations, workplace analyses and other activities take place on a regular basis. Sites often offer a range of sporting activities including fitness courses, company-owned sports equipment or team and group sports. Participation in external sporting events is also encouraged.